BEST PEPPER EVER is a social purpose business that supports food charities and other worthwhile causes through the development of a Fair Trade distribution system for Kampot Pepper "the best pepper in the world".
We work with a collective of over 400 small pepper farmers in Southern Cambodia. If 1/10th of one percent of North Americans chose 'the best pepper in the world'  and that money was donated to food banks that would equate to between thirty and fifty million meals a year as food banks can deliver from six to ten meals for every dollar donated.
and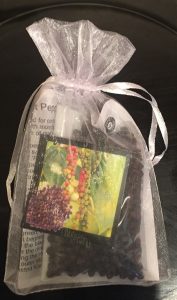 Organza Gift Bag $10.00


Kampot Salt & Pepper Set $36.00
There are a couple of ways to buy Kampot Pepper.
You can order online and support local food charities; at 50MillionMeals.com or
Your company/organization can purchase our Fair Trade products as promotional gifts/incentives. We also have a line of 'swag' starting at only $2.00.  Download our corporate gift/swag product list.BPE Corporate Gifts